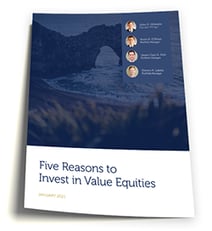 Is your inner contrarian pounding the table for value stocks? We can relate.
Our whitepaper, Five Reasons to Invest in Value Equities, elaborates on how value equities can help alleviate an array of problems investors are facing.
Topics covered include:
Upside Participation, Downside Risk Mitigation
Historic Patterns of Cyclicality
Discounted Valuations Relative to Growth Stocks
Income / Fixed Income Replacement
The Potential for Inflation and Higher Interest Rates
Complete the form on this page to download this whitepaper.
---

This site uses cookies to enhance your website experience. By filling out the form on this page, you are agreeing to our use of cookies. See our cookie policy here.