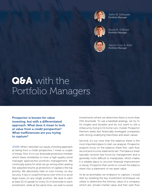 In 1980, Prospector founder John Gillespie was fresh out of school and began working at Geico for Jack Byrne, whom Warren Buffet would refer to as The Babe Ruth of Insurance. This mentorship would have a profound impact on John's life, instilling lessons around how to create a winning culture within an organization and how to identify companies positioned for financial success.
In this Q&A, Mr. Gillespie and co-Portfolio Managers Kevin O'Brien and Jason "Jay" Kish reflect on lessons learned, their investment philosophy, and other concepts including:
Why it is critical to avoid large losses on any single position
How the team conducts constructive "open office debate"
What kinds of questions should be asked when interviewing company management
Complete the form on the right to download this in-depth Q&A with the Prospector Portfolio Managers.
---
This site uses cookies to enhance your website experience. By subscribing to our Market Insights, you are agreeing to our use of cookies. See our cookie policy here.