What do we do differently than other managers when it comes to analyzing insurance companies? Part of what makes our approach so unique is our deep dive into statutory data, which is mandatory information these companies are forced to submit to government agencies.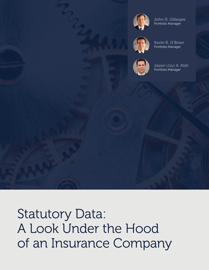 Prospector Portfolio Managers John Gillespie, Kevin O'Brien and Jason Kish recently created an in-depth analysis titled Statutory Data: A Look Under the Hood of an Insurance Company on how we use statutory data to identify undervalued insurance companies.
The analysis includes:
How to estimate the degree of conservatism in a company's reserves
How to analyze performance by lines of business
Why comparing companies is necessary
Complete the form on the right to download this in-depth research piece.
---
This site uses cookies to enhance your website experience. By subscribing to our Market Insights, you are agreeing to our use of cookies. See our cookie policy here.